Innovation needs technological vision. Wir begleiten Ihren Innovationsprozess von der Idee bis zum Produkt, indem wir Sie in einem Firmengespräch über aktuelle Technologien beraten, Reifegradanalysen durchführen und bei Bedarf die nötigen Infrastrukturen zur Verfügung stellen, damit Sie neue Entwicklungen ohne große Investitionen testen können.
Use cases and demonstrators
Demonstrator: KI-gestützte Bildgenerierung für Kreativlösungen
Die Nutzung von künstlicher Intelligenz zur Generierung und Bearbeitung von Bildern eröffnet vielfältige Möglichkeiten für Unternehmen. Mit unserem Demonstrator präsentieren wir die beeindruckenden Fähigkeiten des Bildgenerierungs-KI-Modells Stable Diffusion und veranschaulichen, wie diese Technologie in der Praxis angewendet werden kann.
Stellen Sie sich vor, Sie könnten Bildgenerierungs-KI-Modelle in der ersten Entwurfsphase nutzen, sei es für Produkte, Raumgestaltung oder andere kreative Projekte. Mithilfe von Skizzen oder fotorealistischen Darstellungen können Sie Kunden beeindrucken und gemeinsame Ideen zum Leben erwecken. Auch Marketingmaterialien wie Logos, Werbung oder personalisierte Bilder lassen sich mithilfe dieser Technologie effizient erstellen.
Unser Demonstrator ermöglicht es Ihnen, diese wegweisende Software hautnah in Aktion zu erleben. Schritt für Schritt führen wir Sie durch den Prozess der Bildgenerierung. Wir zeigen Ihnen, wie einfach es ist, "Prompts" – also kurze Textbeschreibungen – allein oder in Kombination mit Skizzen zu nutzen, um von Stable Diffusion beeindruckende Bilder erzeugen zu lassen.
Nutzen Sie die Gelegenheit und lernen Sie diese innovative Lösung persönlich kennen. Erleben Sie selbst, wie KI-basierte Bildgenerierung Ihre Projekte revolutionieren kann und senden Sie uns eine Anfrage um online eine Demonstration von Stable-Diffusion zu erhalten.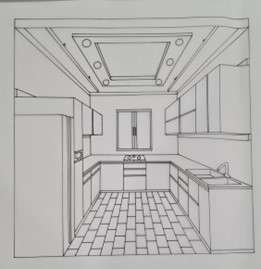 Demonstrator: Central production control
Many medium-sized companies in the manufacturing sector are organized according to the workshop production principle. In this context, machine allocation and sequence formation represent a complex optimization problem (Flexible Job Shop Scheduling Problem). The demonstrator of the Mittelstand-Digital Zentrums Hannover illustrates how quantum-inspired digital annealing can help to solve this challenge in the shortest possible time and with high quality. Via a user interface, visitors are first shown the simple handling of the optimization tool and an optimization is carried out jointly. Afterwards, a material flow simulation visualizes the result using the example of a Tesa-Roller production line. The direct comparison with widely used allocation and sequence rules immediately shows the productivity potential.
Demonstrator: Learning Visual Control System
The demonstration factory of Mittelstand-Digital Zentrums Hannover shows intelligent digitalization solutions from comissioning to manufacturing and assembly to quality control. Visitors can experience digitalization solutions by experiencing first hand the production of a pen in batch size 1. One of the stations - consisting of a lathe and a bar storage system - shows the manufacturing process of the pen's grips made of aluminum bars. Here, an AI-based solution has been implemented to monitor the supply of material by the bar feeder. Workers receive a warning message as soon as a foreign object is detected in the system. In this way, unplanned machine downtime can be avoided.
A learning visual control system was built for monitoring, which provides as output information about the state of the warehouse and the location of the objects in it. The developed deep learning model is able to locate and describe the objects in the aluminum rod bearing. All calculated information (type and position of the object) is visualized and integrated into an image streamed from the camera.
Demonstrator: Quality assurance in the digital transformation
Quality checks along the entire production process can reduce costs, simplify workflows, and increase product and process quality. For this, automated, data-rich, and cross-process quality assurance is a suitable tool.
But not every company is already fully automated and has continuous machine data evaluation in real time. In this case, it may be a matter of implementing partial solutions. An example of such a partial solution can be found in the demonstration factory of the Mittelstand-Digital Zentrums Hannover: Here, the quality inspection was implemented with the help of a a collaborative robot, sensors and artificial intelligence. The quality inspection can be flexibly integrated into different process cycles.
The Mittelstand-Digital Zentrum Hannover is part of the Mittelstand-Digital network. The funding priority offers small and medium-sized enterprises comprehensive support for digitization with the Mittelstand-Digital Centers, the Initiative for IT Security in Business and Digital Jetzt. They benefit from concrete practical examples and tailored, vendor-neutral offers.
The digital needs analysis provides skilled crafts businesses with information on the degree of digitalization in your company and on further development potential.
The CARE tool offers particularly small and medium-sized enterprises an individual risk assessment with regard to their exposure to various cyberattacks combined with corresponding action recommendations to reduce the greatest risks.
The risk assessment is based on the data set of a representative survey of 5,000 companies in Germany and is carried out after completing a ten-minute questionnaire on various characteristics of the company and security measures already implemented.
The Mittelstand-Digital competence centers have set up an information platform for their demonstrators. In this way, the centers make digitalization a tangible experience and use practical application examples to demonstrate where medium-sized companies can start in their own businesses. The new online platform provides an overview of what can be tried out on site or digitally.
Consulting and knowledge transfer
For many companies, especially those that are medium-sized or small, it is often difficult to navigate the plethora of existing AI technologies. The L3S Research Center offers a wide range of consulting services ranging from data analytics to image recognition to assist companies in selecting and deploying the appropriate technologies.
Basic research is the basis of many innovations. Start-ups represent an opportunity to create added value for society and the economy by commercializing these innovations. Therefore, CISPA supports scientists in the transfer of research into new business models and builds up a venture ecosystem. The CISPA incubator supports this process with a wide range of workshops and consulting services.
A team of business development managers and technical consultants therefore supports prospective founders in the idea and start-up phase. This support includes the conception and realization of new business models in the area of IT security:
Staffing of venture teams and search for co-founders

Coaching regarding idea evaluation, product development, business model conception and market entry

Moderated exchange with internationally renowned researchers in idea generation and product development

Fundraising support from public funding programs and private venture capitalists

Facilitated market entry through an international network of industrial research partners